Georgia Kitchen Cabinet Redooring
Give your kitchen a fresh new look with stunning yet affordable kitchen cabinet redooring.
If your kitchen space wasn't custom-made just for you, chances are you're using a kitchen that was built and designed for someone else's liking, needs, and style. That's fine! But for many Georgia homeowners just like you, there usually comes a time when you finally want to have a kitchen that perfectly suits your personal taste, needs, and lifestyle; and you've got several options to get that done.
A full-blown renovation is great, but will definitely cost you a lot of money. It also takes weeks to complete. Kitchen cabinet refacing and repainting are among the more affordable ways to give your kitchen a new look, but your cabinets need to be in great shape for this. If you think that your current cabinet doors and drawers are looking worn and would be much better off replaced altogether, then kitchen cabinet redooring may be the perfect option for you.
Kitchen cabinet redooring by Georgia Cabinet Refinishing involves taking out old kitchen cabinet doors and drawers and replacing them with new ones that are specially designed and crafted to match, accent, and complement the rest of your kitchen space. Unlike kitchen cabinet repainting and refacing, redooring doesn't just cover up existing cabinet doors and drawers with paint or veneers, it takes these old parts out and brings new parts in. This leaves you with cabinets, drawers, and a kitchen that looks and feels as good as new.
Georgia Cabinet Refinishing is a trusted kitchen cabinet redooring company here in Georgia and we are proud of the quality of work we deliver. With smart design, meticulous craftsmanship, and excellent customer service, our strong team of cabinetry experts are ready to take you one step closer to your dream kitchen!
Call Georgia Cabinet Refinishing at (678) 345-8816 for a Free Consultation!
Cabinet Redoor Options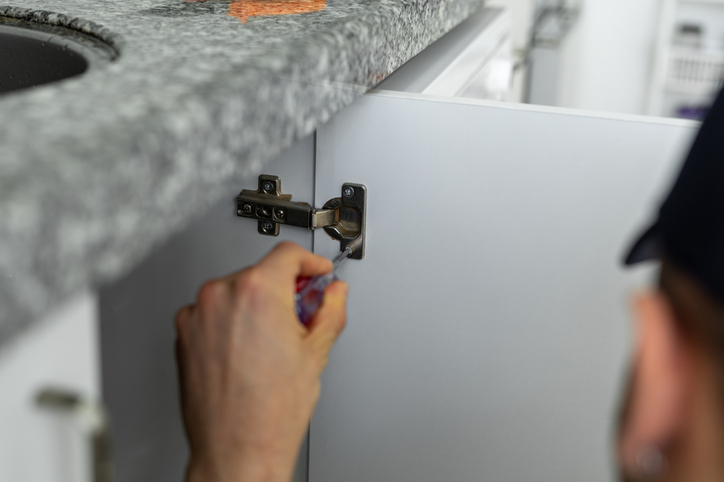 Kitchen renovations are the ultimate solution to personalizing and customizing your kitchen. Unfortunately, that could cost you thousands of dollars and may take up to six weeks which, for many Georgia homeowners, can be a bit much.
However, if you go for a kitchen cabinet redooring project instead, you could get the output you're looking for at a much cheaper cost and a much shorter time frame.
Kitchen cabinet redooring costs around 50 to 60 percent less than a remodeling project. That's a lot of money saved. It also takes just a day or two to complete, which is a huge relief for all homeowners as a complete remodeling project would mean having no kitchen to use for up to six weeks.
Here at Georgia Cabinet Refinishing, we want you to have a kitchen that just looks and feels like your very own. Whether you're looking to solid wood, glass, medium-density fibreboard, slab, or other types of doors for your kitchen cabinets, we are here to make that happen on time and on budget.
Cabinet Accessories & Organization
A kitchen cabinet redooring project holds a lot of potential and can do more than just beautify your home.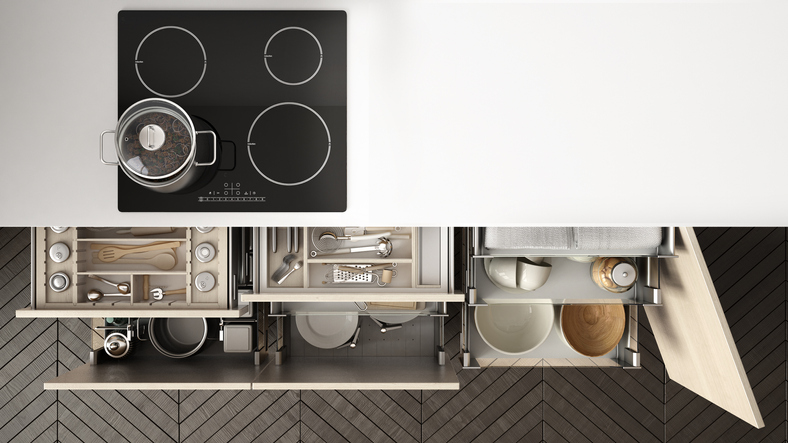 Here at Georgia Cabinet Refinishing, the work we deliver improves kitchen functionality and allows you to make the most of the space that you have.
We do this by adding in new organizational or functional elements to your cabinets or modifying existing ones. We take note of what your needs, personal taste, overall home design, home size, and budget are, and we see to it that the modifications that we make on your cabinet doors and drawers make your space more functional, comfortable, and efficient.
Our kitchen cabinet solutions that maximize storage and organization include:
Built-in Trash Containers
Drawer Organizers & Inserts
Upper Cabinet Organizers
Pull-out Base Organizers
Under Sink Organizers
Lazy Susans & Blind Corner Pull-Outs
Soft Close Pull-Out Shelving
Spice Racks
Pantry Organizers
If you're looking to give your bathroom a new look and a more functional feel as well, Georgia Cabinet Refinishing can help you out with that too. We are a trusted cabinet redooring company here in Georgia and we look forward to helping you truly enjoy every space you have in your home.
Georgia Cabinet Refinishing Experts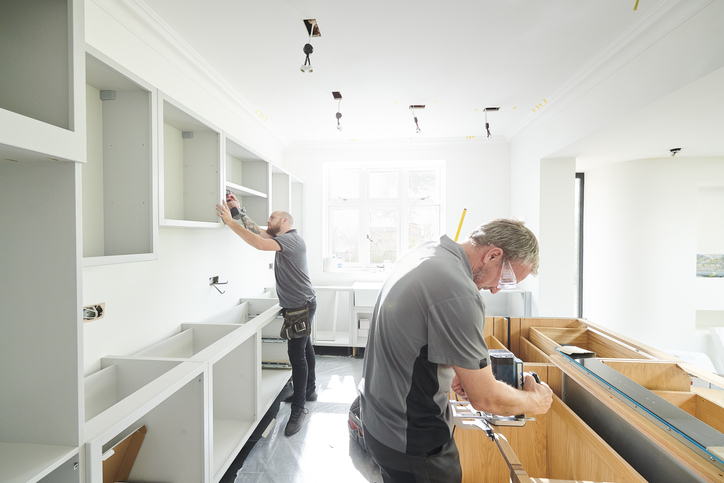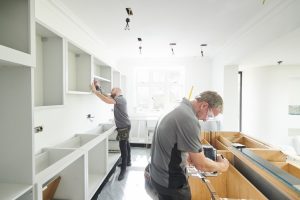 If you're looking for an established and accomplished Georgia cabinet refinishing company, Georgia Cabinet Refinishing is here for you!
Whether you're looking to get your home new cabinets, or give your current cabinets a makeover, we give you what you need. From kitchens cabinets, bathroom cabinets, countertops, hinges, accessories, to backsplashes, Georgia Cabinet Refinishing is here to provide the beautiful design, top-class craftsmanship, professional recommendations, and start-to-finish customer support that you deserve.
Georgia Cabinet Refinishing's team of cabinet refinishing experts visit your home and discuss with you what your needs, taste, and personal preferences are as they take a look at the space to be worked on. We offer you insight, suggestions, as well as options that are ideal in achieving your goals for your space. From conceptualization to refinishing, we are here to help you have the inviting, comfortable, and tasteful home that perfectly suits your lifestyle.
Let's Talk Now- Free Consultation
With kitchen cabinet redooring by Georgia Cabinet Refinishing, your home improvement budget can go a long, long way.


Why spend a huge amount and a lot of time on a full-blown remodeling project when you can give your kitchen a new look for half the cost and a fraction of the duration?
Here at Georgia Cabinet Refinishing, we make sure that you get the best materials and the best service quality, and we make sure that these work with your budget and timeline. We're excited to be your local partner for all your home improvement needs.
Call Georgia Cabinet Refinishing today at (678) 345-8816 for your Free Consultation!