Georgia Cabinet Company
Reinvigorate your living space with attractive, affordable cabinet refinishing by your Georgia cabinet company, Georgia Cabinet Refinishing!
Creating a home that is inviting, relaxing, and suited to your style can not only improve the value of your home, but also your quality of life. When you are living in a space that is intuitively organized to provide you with maximum efficiency, you are better able to enjoy it.
We provide professional cabinet refinishing and painting services, allowing you to create the kitchen or bathroom of your dreams at a fraction of the cost of a complete bath or kitchen remodel. From layout adjustment to new hardware and countertop installation, we make sure every aspect of your renovation project is expertly finished and cohesive with the overall design aesthetic and style you hope to achieve.
Our experts work with you to understand and deliver on your vision for the ideal kitchen or bathroom.
Call Georgia Cabinet Refinishing at (678) 345-8816 for a Free Consultation!
Affordable Cabinet Refinishing Options
Some homeowners seeking renovation have been discouraged from their project due to the high cost of a complete renovation.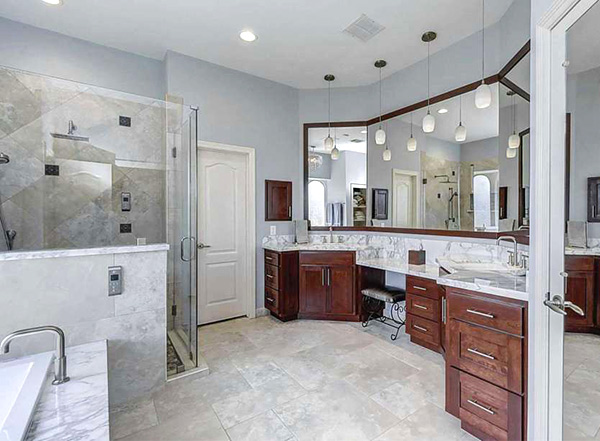 Replacement cabinetry often represents the largest portion of the remodel budget. By reducing the cost of cabinetry updates through creative solutions, the kitchen or bathroom of your dreams may finally be within reach.
Many homeowners are seeking a cabinet renovation to upgrade either the style or functionality of their space, not due to physical deterioration of their cabinetry. This is actually great news! Instead of replacing your cabinet boxes, we can utilize your existing cabinet frames in their current place or move them to a new layout and refinish them for like-new appeal. Cabinet doors can either be replaced, refinished, or painted to match your updated styling.
Don't let the cost of a remodel project keep you from getting the home of your dreams! Our creative solutions like cabinet painting and cabinet redooring deliver an attractive, durable finish that delivers great value to homeowners of all budget sizes.
Cabinet Refinishing Design & Planning
We understand how important it is to create a living space that works for you. Your home should reflect who you are and be a space where you feel comfortable and relaxed. The spoons should be exactly where you intuitively reach for them.
Our specialists are focused on creating the right space for you, your lifestyle, your family, and your needs. We don't forget about your budget, either. It is important to us that we deliver the right home improvement elements to make a big impact without costing an arm and a leg.
We start with what you currently like and don't like about your space. Are you happy with the overall layout and just looking for some style updates, or does the physical space need to change to suit your needs? What kind of condition is your existing space in? We often find that there are areas where we can save you money, allowing you to get closer to the finished image you have in your head.
By utilizing existing cabinet structures and boxes, we can save about 80% of the cost of cabinet replacement. You can choose to put that money back in your pocket, or utilize it to add additional elements to your home improvement project, such as installing a kitchen island, updating countertops, adding organizational elements, or applying to other projects throughout your home.
Your Georgia professional cabinet company, our goal is to deliver an appealing space with durable finishes that look great, meet your needs, and fit your budget.
Let's Talk Now- Free Consultation
Ready to update your space and reinvigorate your home? Georgia Cabinet Refinishing, your Georgia cabinet company, provides high-end cabinetry finishes without the high dollar price tag. With innovative solutions for cabinetry refinishing, we assist with creating a space that you love looking at and working in.
If you are ready to get the bathroom or kitchen of your dreams, at a price you can afford, the experts at Georgia Cabinet Refinishing are ready to deliver for you.
Call Georgia Cabinet Refinishing today at (678) 345-8816 your Free Consultation!